About the artist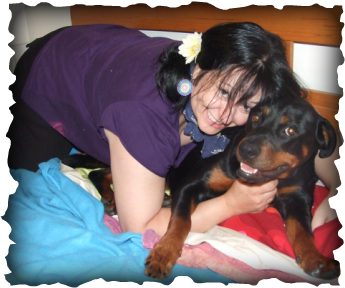 My two beautiful puppies get a lot of love and affection
After becoming a Christian in 2012, my life took a significant turn - from hurt, pain, abuse, rejection, abandonment, addiction, suicide attempt.....into an amazing journey of discovery of God's love, joy, and mercy. I witnessed beautiful miracles in my life: from supernatural healings, salvations, financial blessings, deep forgiveness, to new opportunities, giftings and talents.
Following Father's heart, I have graduated from Harvest Supernatural School of Ministry in 2014. Well, that experience was transformational!

God has called me to influence the mountain of the Arts and Media through the Prophetic Art. He give me prophetic gifting and passion for creating. God often prophetically

downloads the visual pictures to me during the worship or intercessory prayer. Sometimes visions come with a feeling or prophetic word, Bible verse, or even a sound.
I have expressed myself through art and creativity ever since I was a child. However, since my salvation and giving my life to The Lord - art has got a completely different dimension. Now - my art is all about God. I am His vessel, and canvas in front of me is being filled with His prophetic messages. I am called to deliver Father God's encouragement, love, glory and hope through the prophetic arts.
My art is often abstract, and very textured. I use various types of acrylic paints, texture mediums and materials around the house. I paint in my humble studio, and always listen to the worship music. I pray over the canvas to release God's anointing and blessings. God has also invited me to make videos of the painting processes and share them with others. I particularly feel that God wants to encourage those creative people who are overwhelmed with self-doubt, self-criticism and self-condemnation.
Do know that You are called! God does not called the qualified - He qualifies the called!

PROPHETIC ART WORKSHOPS

In Adelaide, I also assist facilitate the prophetic art workshops. They are currently run in the northern suburbs, but soon will be released in the southern suburbs. We have witnessed amazing transformations, healings, deliverance, and new levels of freedom by the participants of the workshops. You do not have to know how to paint. We have many people attended the workshops that have never even hold a brush in their life! We create a safe, prophetic space, filled with joy and worships, encouragement and grace - that allows the Father to create miraculous things with His children.
E-mail us
to find out about the new dates and locations of the Prophetic art workshops.
*
Besides painting abstract in acrylics, in somewhat abstract expressionism approach, I also enjoy creating prophetic jewellery (every woman should wear prophetic jewellery! :-), designing flowery hair accessories (love seeing a woman with feminine hair styles! :-), clicking my camera for prophetic photography, and pretty much everything hand painted: clothes, shoes, furniture....
I like to get my hands dirty ;-)

*
I regularly exhibit my artwork in the galleries in South Australia, shows, festivals, expos, fund-raisers, and various community events.
I've also donated the art to support missionary work, people at risk of homelessness, and since I have a very soft spot for animals - animal welfare.

In 2013, I won a 1st Prize in the Council's art photography competition in South Australia.

*

In private life, I enjoy spontaneous travel, farmers markets, social board games, picnics, camping, nature and anything creative, really!
*
For more pretty pictures and instructional videos, find our:

Facebook page on http://www.facebook.com/artfromwonderland

and our Instagram page:
https://www.instagram.com/artfromwonderland/
For available artwork and colourful creations, check out our online shops on:

eBay: http://stores.ebay.com.au/ArtFromWonderland

Etsy: https://www.etsy.com/au/shop/ArtFromWonderlandia

and

subscribe to our YouTube Channel:
https://www.youtube.com/user/picturesque108
to watch prophetic artwork come alive.
No matter who you are or what skills you have, I hope you feel encouraged to pick that brush up, and put down on paper or canvas that message that God has given you. Prophetic art is not about the art technique - it is about delivering Father's heart.



Have a blessed and joyous day!

Nina Pretty Ballerina
---