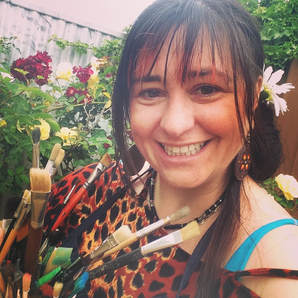 Welcome to the world of
Art from Wonderland
!

Art from Wonderland was created by an South Australian prophetic artist Nina Bach. As the name suggest, Art from Wonderland celebrates creating original artwork from the place of "wonder."
​
Nina is a 1st Prize winning full time prophetic artist based in South Australia. Founded in a style of abstract expressionism, she paints mostly with acrylics, watercolours and mixed media. Playing with textures is an intriguing process, and Nina often uses natural materials for her creations.
Her love of art started as an inquisitive young girl, painting and creating with anything she could lay her hands on. A more serious art and design career developed about 10 years ago. At that time, she began to realise her reason for being: to create works of art that would bring profound joy and exuberance (with just a hint of playfulness!) into people's lives.
As an "imagineer", she loves inventing new creative art techniques, which she shares on her
YouTube channel.
Hand painting recycled furniture, custom-making jewellery, creating uniquely styled accessories, and everything really - it comes very naturally... she likes to get her hands dirty :)
Nina teaches prophetic art classes in Adelaide and mentors other artists around the world. One of the highlights for her is when she sees others break free of their inhibitions, and fully embrace the creation of their own art.
She enjoys travelling, photography, movie production, self-sustainability, nature and animals. Mornings start about 5am with contemplative time in the silence of the early morning outdoors; listening to the heartbeat of Heaven; the sound of birds and yawning puppies are a beautiful accompaniment to a warm cuppa at a cool, crisp dawn.
​
Nina regularly exhibits her artwork in various galleries in South Australia, shows, festivals, and various events
.
In 2013 she won 1st Prize in the Marion Council's competition M Files. Her art has been showcased on Firestarters TV, published in calendars and magazines.
"Art from Wonderland" is inspired by creating art from a place of "wonder"; celebrating everything that brings truth and freedom; honouring Father's heart; and sharing encouragement and love with every brush stroke.
---
CONNECT WITH US ON ​SOCIAL MEDIA
​
Our
Facebook page
will keep you inspired and your imagination going.
We also share colourful pictures and motivational prophetic messages on
Instagram.
Stay informed and connected through our
Twitter page.
For very curious minds that are wanting to see the process of a prophetic painting coming alive - subscribe to our
YouTube Channel
and enjoy the short time lapse and tutorial videos of prophetic messages and paintings coming alive.
If you are interested to know more about the prophetic art - grab a cuppa, close your eyes and take a deep breath, open your heart -and visit our
Prophetic art page
for inspiration and creative wonder.
ONLINE GALLERIES
​
Pretty pictures of available artwork for your home or as a unique gift can be purchased on Australian
BlueThumb online gallery.
Our international shops on our
Etsy
and
eBay
showcase the available artwork, as well as uniquely designed custom jewellery.
​
We are very friendly :-) Feel free to
E-mail us
your enquiries and encouraging testimonies!
Have a glorious day!
Nina Pretty Ballerina
Art from Wonderland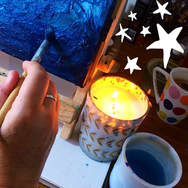 Jeremiah 33:3 (NIV) ​'Call to me and I will answer you and tell you great and unsearchable things you do not know.'